Today's guest post comes from my girl Janice, who used to run a blog called Gettin' Nailed back in the day! One day we started talking on Twitter (I was a little "starstruck" -- it happens sometimes when more well-known members of the nail community LOL at some of my stupidest, most random tweets), and I had NO IDEA we would hit it off as well as we have! I feel like we've known each other longer than we have. Sure, we talk about polish, but the polish is a springboard for everything else, including some of the most in-depth and often hilarious conversations about our shared ethnic & cultural background that I've ever had. For the same reason I'm extra grateful for my friendship with L. from AoaMS, I'm also super thankful to have Janice as a friend.
Like any former blogger and constant collector worth her salt, Janice has a BALLER stash. You name it, she probably has it -- or a reasonable facsimile. Because of this, I didn't have a formal request for her guest post, but she intuitively zeroed in on my burgeoning love affair with glass-fleck polishes.

After seeing these swatches, how can you NOT love glass-flecks? I hope you enjoy Janice's post just as much as I have!
* * * * * * *
(Yes, I love the intro to this song. Don't be hatin'.)
Break The Ice

It's been a while
I know I shouldn't have kept you waiting
But I'm here now…
Hey! I'm Janice, formerly of
Gettin' Nailed
and soon-to-be resident blogger of
I'm Just Here For The Polish
. Even though it's been *looks at calendar* YEARS since I've blogged, I haven't given up nail polish. In fact, I've even gotten most of the seemingly impossible lemmings I had back when I started in 2009. I plan on featuring vintage polishes, sadistic HTFs and maybe a new bottle or two.
When Rach requested glass-fleck swatches, I immediately thought to feature some of China Glaze's finest offerings: Babes in Toeland. If I remember correctly, Babes in Toeland was a yearly summer glass-flecked collection from 2000 until 2006.
Twinkle Toes
is from the original 2000 collection. It is the most unique of the six I own due to its opacity. Most of these polishes require 3 coats at a minimum but Twinkle Toes is a borderline one-coater. The flecks also aren't quite as twinkly or color-morphing as the others.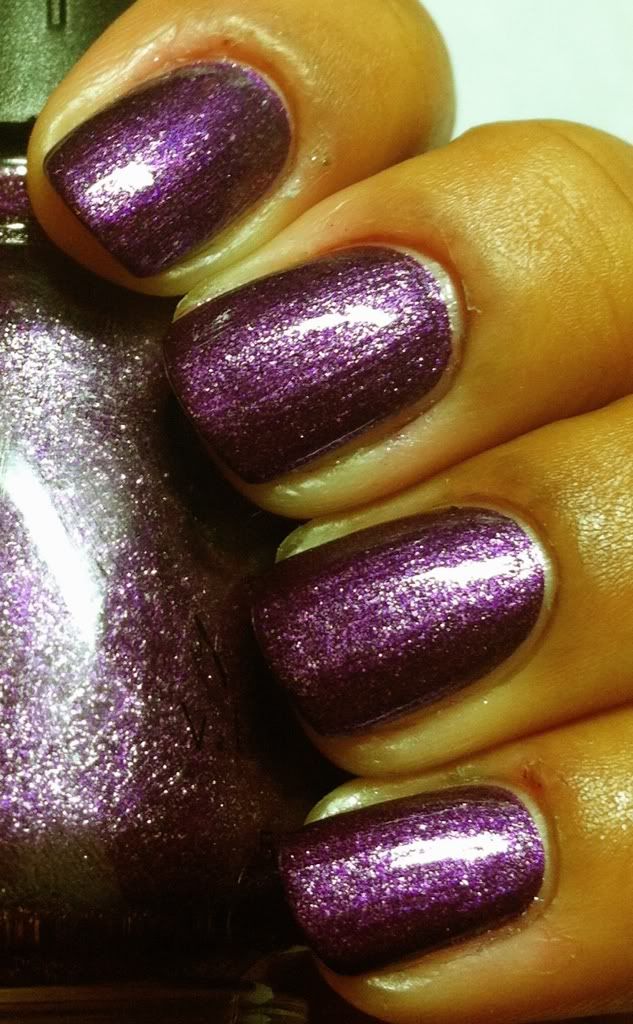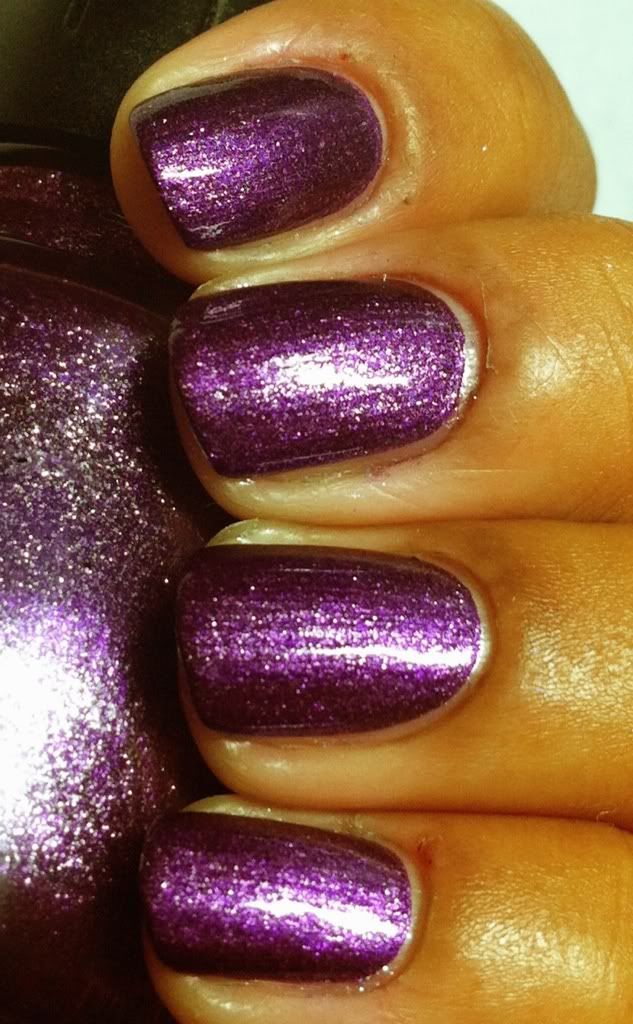 Stroke of Midnight
and
Happily Ever After
are part of the 2004 Glass Slipper collection. Of all the past Babes of Toeland polishes, I am most curious to see the other polishes I have missed out in this collection. These both have a foil-like quality that sets them apart from other China Glaze glass-flecked polishes.
Stroke of Midnight took three coats but still has a bit of VNL. I previously attempted to apply Happily Ever After alone but after 4 problematic coats, I decided to layer it over OPI Care To Danse?. I love the combination of milky base with the slightly foiled glass-flecks.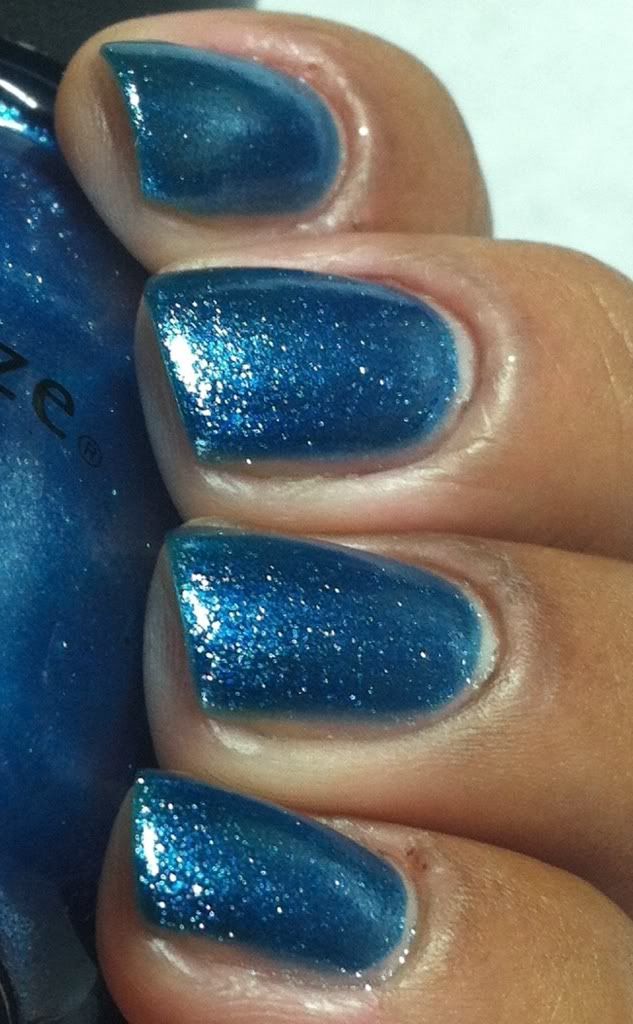 2005's Martini Pedicure collection includes the next offering,
Sass in a Glass
. Many of the older glass-flecked China Glazes are a bit sheer, so there might be some VNL. Sass in a Glass is no different.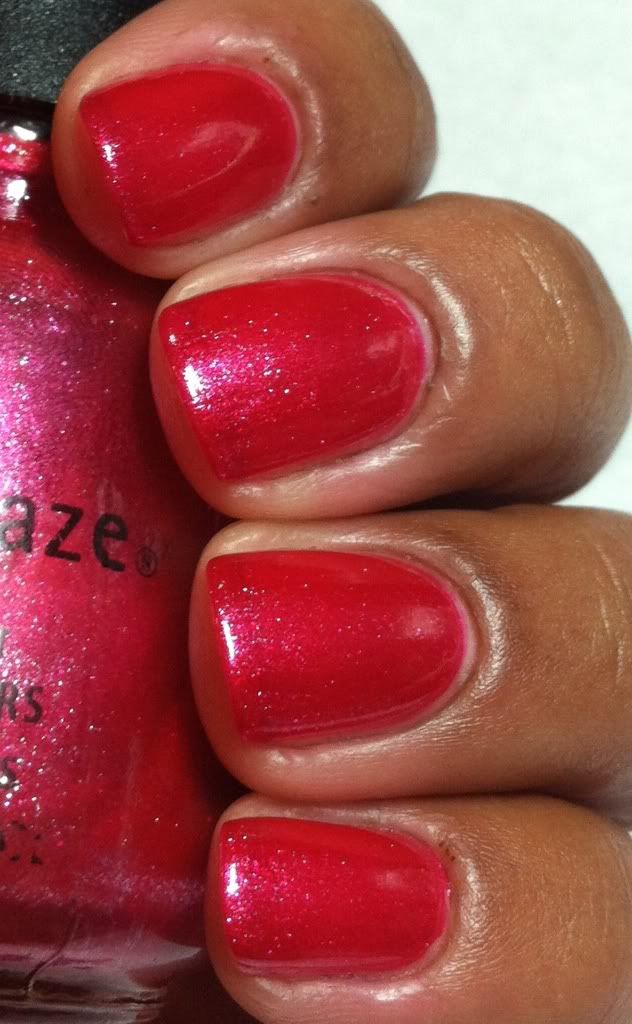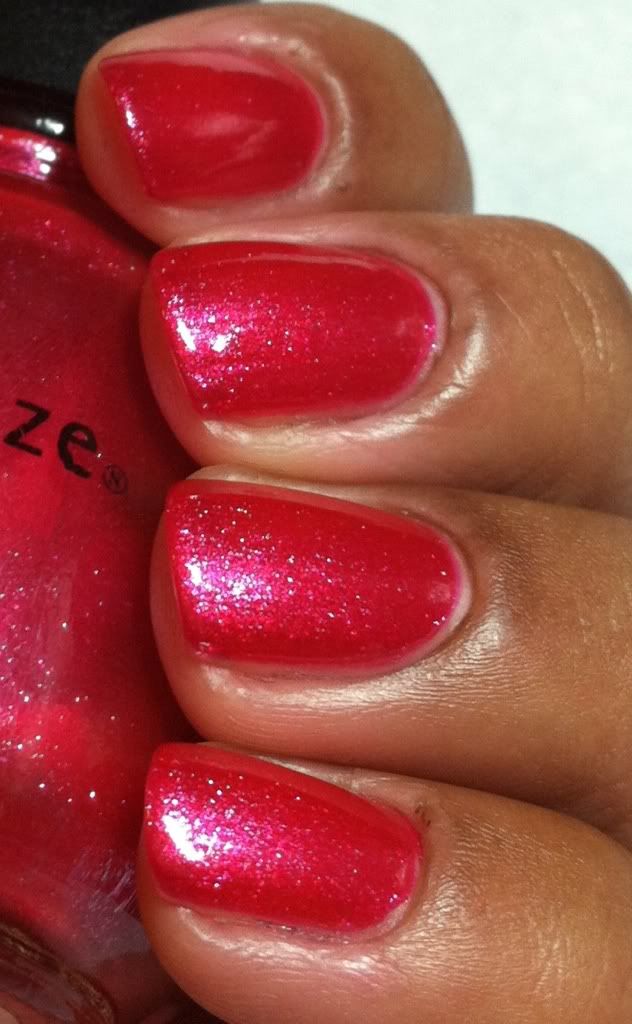 I do miss the alcohol-themed names of the last two Babes in Toeland collection, especially the names from Tequila Toes.
It's 5 o'clock Somewhere
is a dark magenta with a purple/pink glass-flecked finish. I will honestly say that this is the most unique of the six since I have not yet encountered a dupe in over 4 years of collecting nail polish.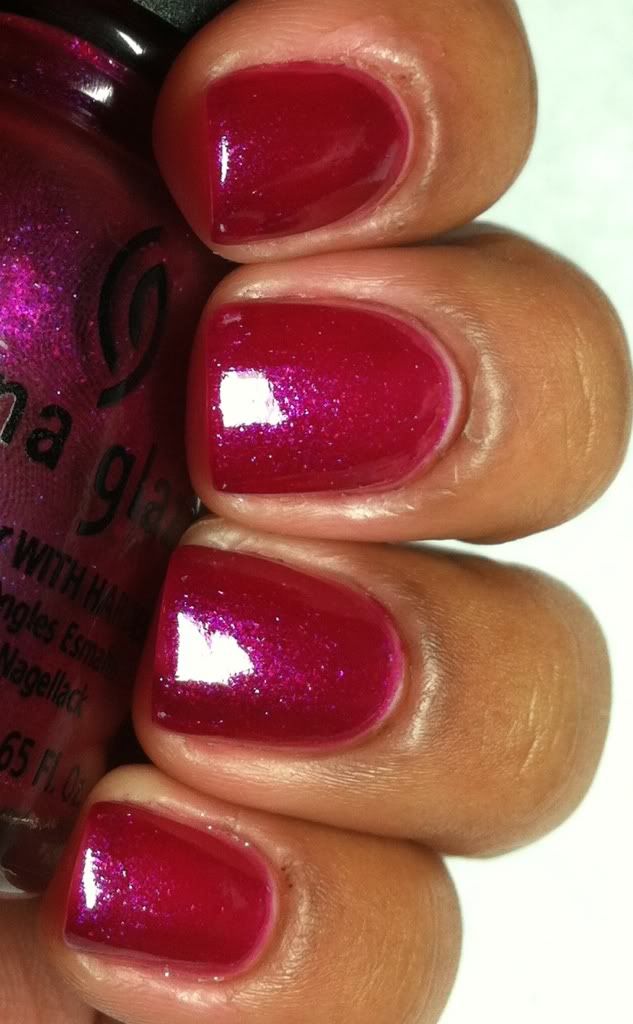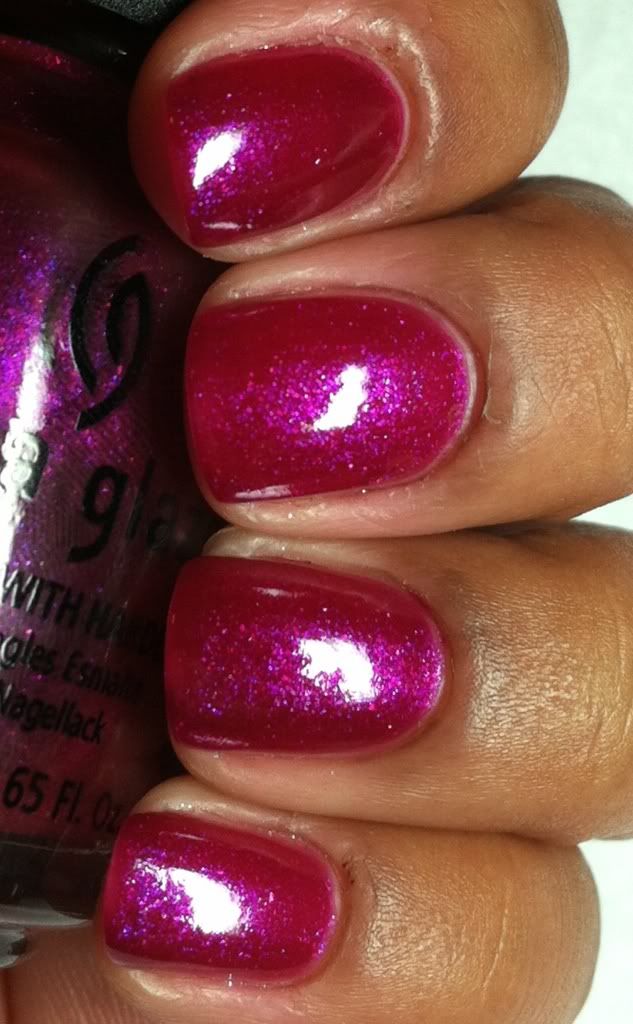 Like Happily Ever After,
Drinkin' My Blues Away
was a pain after 4 coats. I layered one coat over three coats of Rescue Beauty Lounge IKB:2012. This combination retains a jelly-like finish without VNL issues.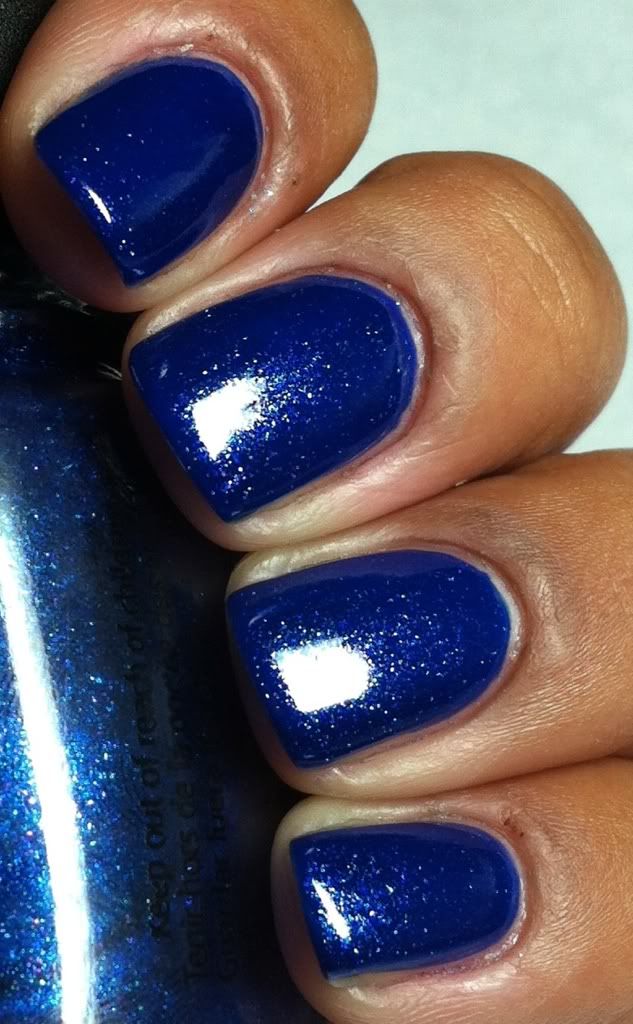 So…where can you get them? Since they are all long-discontinued, your best (yet expensive) option is eBay. However, I obtained half of these polishes from a year-long dusty hunting bender back in 2009 and the other three from blog sales.
There are some alternatives: Zoya Savita and OPI Lincoln Park After Dark Suede both have the textured finish of Twinkle Toes but are not dupes of Twinkle Toes. Pure Ice Vineyard (which can be found cheap at Wal-Mart) is a dead-on dupe of Sass In A Glass. China Glaze's holiday 2011 Blue Year's Eve is close to Drinkin' My Blues Away and has a far superior formula to its predecessor.
As with many older HTFs, these polishes are non-B3F. The 2005-2006 Babes in Toeland polishes have toluene as the first ingredient … you can smell them from a mile away.
I hope you enjoyed this walk down glass-flecked memory lane! My blog
www.imjusthereforthepolish.com
is still under construction, but should be up and running by mid-May.
* * * * * * *
Well, DAMN! *drool* Fun fact: Glass flecks are probably my second favorite non-creme finish, so you can imagine how excited I was when Janice came through with these pictures of some of the first recognizable ones! Thanks, lady! <3
I'm looking forward to the launch of her new blog, and you can bet on seeing an announcement here when that happens. But get ahead of the game and bookmark it at the address below -- I can't wait to see what she's got in store!