You call me on my car phone with that je ne sais quoi,
You say you need a little of my ooh la la,
I know you get lonely in your canopy bed
Well, say no more baby, I'll be runnin' every red.
Oh Rexy, you're so sexy! But what's that? You'd rather kill yourself than meet Rex Manning? But ... it's REX MANNING DAY!
I knew
Madeline
and I were going to be good friends when we found out how many geeky interests we had in common (for instance, we own the same
Captain America plush
!). But when we discovered how much we love the '90s, I think things quickly elevated themselves to another level. So it's no surprise that we both have "Empire Records"-inspired posts to celebrate Rex Manning Day today!
For those of you not in the know, "Empire Records" is a 1995 movie about one day in the lives of the employees of a small town record store that is in peril of becoming absorbed by a corporate record store chain (THE HORROR). On that day, April 8, famously washed-up pop singer Rex Manning visits the store for a meet and greet with fans.
Has liking "Empire Records"
ever
been cool? Because we don't like it -- WE LOVE IT. I have to be totally honest: One, it would be almost instantly panned if it were to be made today because it's kind of a mess, plot-wise; the characters are broad sketches but whatever, this is not cable (#idcurr). Two, I was not into watching movies aimed at my demographic back in the '90s, and I actually didn't get around to seeing "Empire Records" until the early aughts. But man, it is
on point
. And that '90s alt-rock soundtrack gets me so excited, that much like Corey Mason (Liv Tyler's character), I could almost choke on a pretzel.
But before I wax poetic about the gang at Empire, I must quote Lucas (Rory Cochrane's character) and say, in the immortal words of the Doors, the time to hesitate is through. --Time for some swatches, I mean.
(Madeline, am I overdoing it yet? I
probably
am.)
I knew I was going to do a layering combination and I had the perfect glitter in mind, but I couldn't settle on a base color. The one I wanted at first was too dark, and then the other one I really wanted to use was AWOL in my room. So I grabbed Urban Outfitters Crowded because I really couldn't find a polish that matched Liv Tyler's sweater in the movie.
Three coats with SV.
Oh, and the sweater in question:
Liv's sweater is more faded in the movie, but apparently I have *nothing* that is even close to it.
Anyway, I *really* loved wearing Crowded. I tend to forget how much I like Urban Outfitters' polishes because I don't wear them that often, but this ... I must have had Cult Nails Casual Elegance on the brain or something, because Crowded reminds me of a slightly dull version of that, as well as
Models Own Beth's Blue
. I was afraid it was not going to apply well because it's a pastel, but it wasn't too bad to work with at all. Dry time was super fast with SV.
And then it was time to add the glitter layer. I used Wet n Wild Stick It to the Man from the new Mega Rocks line that came out in, what, January??? Funnily enough, Madeline also had this polish in mind for a Rex/Empire post, but she opted to blog something else. GREAT MINDS.
Shown below is two and a half coats of Stick It to the Man + NYC Grand Central Station.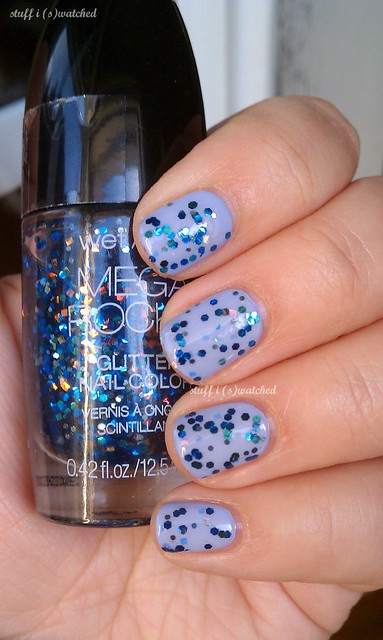 Ugh, I loved this combo. I liked that the silver, blue, and teal hexes popped against Crowded's pastel base, but it was the iridescent square glitter that sealed the deal for me. (IDK what's going on with me and iridescent glitter.) Just ... love.
Stick It to the Man is one of those polishes that my boyfriend aptly would describe as "confetti and glue." He's right. This one requires lots of patience because you have to wait a little while between layers (I didn't, and I got a couple of bubbles). After two coats, I wasn't entirely convinced I was "done," so I dabbed on a little more glitter, hence the extra half coat. This dried surprisingly smoothly with NYC GCS, which was great. I wore this combo for two? three? days (sorry, I forgot) with no chips and barely visible tip wear. :D
If you're interested in either of these polishes, Urban Outfitters polishes like Crowded go for $5, or two for $8. I haven't been to a UO in forever so I couldn't tell you if they're in stock at an actual store, but they're definitely online. Again, I feel like UO polishes are underrated because the only times I didn't like them is when I didn't like how the color ended up looking on me. The formulas generally are pretty excellent. As for the Wet n Wild Mega Rocks line, I've seen it in the core WnW displays at drugstores, so you should have no problem finding any. They're $2.99 a pop, and if there's a Wet n Wild promo, you could score it for a buck. Good stuff. I can't wait to use Stick It to the Man on a dark blue or a black polish next!
Stick It to the Man seemed like the quintessential "Empire Records" polish to me because of this:
Madeline and I also agree that no one was cuter than Ethan Embry in the '90s, even when he was eating special brownies.
A few "Empire Records" things that I wanted to note:
Coyote Shivers, who plays Berko, was Liv Tyler's stepdad at the time the movie was shot and released. Huh.
According to Gwar frontman Dave Brockie (RIP!), also known as Oderus Urungus, his line about Mark joining the band was dubbed over by someone else because the original line was deemed "too crude." (Side note: Gwar is based in Richmond ... if you come for the Gwar-B-Q, let me know. I'm not metal enough for Gwar-B-Q, but I might be able to recommend some good spots to eat and sights to see.)
Remember that cheesetastic music video at the beginning of this post? The producers needed only 17 seconds of video to use in the movie, but the music video director went for it and gave them the whole thing.
Rex Manning = Maxwell Caulfield, the guy from "Grease 2." And in real life, he's married to Juliet Mills -- or, as some of us might remember her, Tabitha, the witch from "Passions." (I must have laughed like a hyena over that show so. many. times. in ninth grade, SO RIDICULOUS.)
If April 8 is Rex Manning Day and Corey only *just* received her letter from her dream school, I'm guessing she did not apply early admission, which seems like something she would have done.
Although there is a dog in the poster, there is no dog in the movie. I'm assuming this was either a marketing ploy of "animals are cute" or maybe there WAS a dog in the movie, but it was cut from the final footage in post production.
Excluding boss man Joe, there are EIGHT Empire Records employees. That seems like a lot to me because I never saw that many at one time when I would go to indie record stores growing up, but whatever.
Although no one will be as qt as Ethan Embry (Mark) was in the '90s, I was insanely attracted to Anthony LaPaglia's character, Joe. What can I say, I love old dudes.
This isn't really a factoid either, but if you want to know who I think won the aging game among the "Empire" boys, I'm gonna have to go with Johnny Whitworth (AJ).
One last definitely-not-a-factoid: One of my biggest regrets in life, besides not having a plan for my career path out of college and not seeing "Obsessed" when it was in theaters, was never getting the chance to roll up a joint and watch this one of my best friends from high school. I guess it's not too late, but as we are now semi-responsible "adults," it's not ideal, either. #dayenu
Oh, wait. I almost forgot to tell you that some people don't recommend watching the extended Remix: Special Fan Edition DVD because it's supposedly not as good as the original theatrical cut. I've never seen the original theatrical cut, so unfortunately the former is all I know. Just putting this out there. But I'm kind of attached to my DVD for obvious reasons, as well as the fact that my mother bought this for me. My mother is the kind of woman who will buy me things, as long as those things are things I need ... and DVDs are not things she thinks I need (or nail polish, for that matter). The day she bought this, she was in an unusually good mood; this was in the $3 bin at Wal-mart and she let me put it in the cart, along with two other DVDs I can't think of right now.
Part of the reason I love "Empire Records" so much is, well ... I don't think it's specific to my generation, but working in an indie record store was definitely a fantasy for me (although the way Warren goes about it in the movie is REALLY not the way to do it). Or maybe the fantasy wasn't even about the record store per se -- maybe it was just being able to be a young person with coworkers you liked and a boss who you respected and who, in turn, wanted you to succeed. I've been lucky to have had two jobs like that. But life sets in, and as Joe points out, Lucas is 21. He (Joe) is not. Watching this movie as I inch closer to 30 is also a little depressing because I understand that line -- and Jane's "I don't know what I'm doing. I used to be a much more interesting person" -- more and more now.
But we musn't dwell. Not today. We can't! Not on Rex Manning Day!
Now that I can't let myself quote this movie any more, it's time to end this post. What do you think of this layering combo? Do you love "Empire Records" as much as Madeline and I do? Who's your favorite character, or what's your favorite quote? There are so many that I couldn't work into this post, but believe me ... I'll quote this movie aaaaaaaaaaaaaall damn day.
Thanks for reading! I'll try to be back before Friday, but if I'm not, Shopping My Stash will go up then. Until then, don't forget to visit Madeline's blog,
Quest for the Holy Nails
, and enjoy this timeless '80s classic, which is played at the end of the film. :)